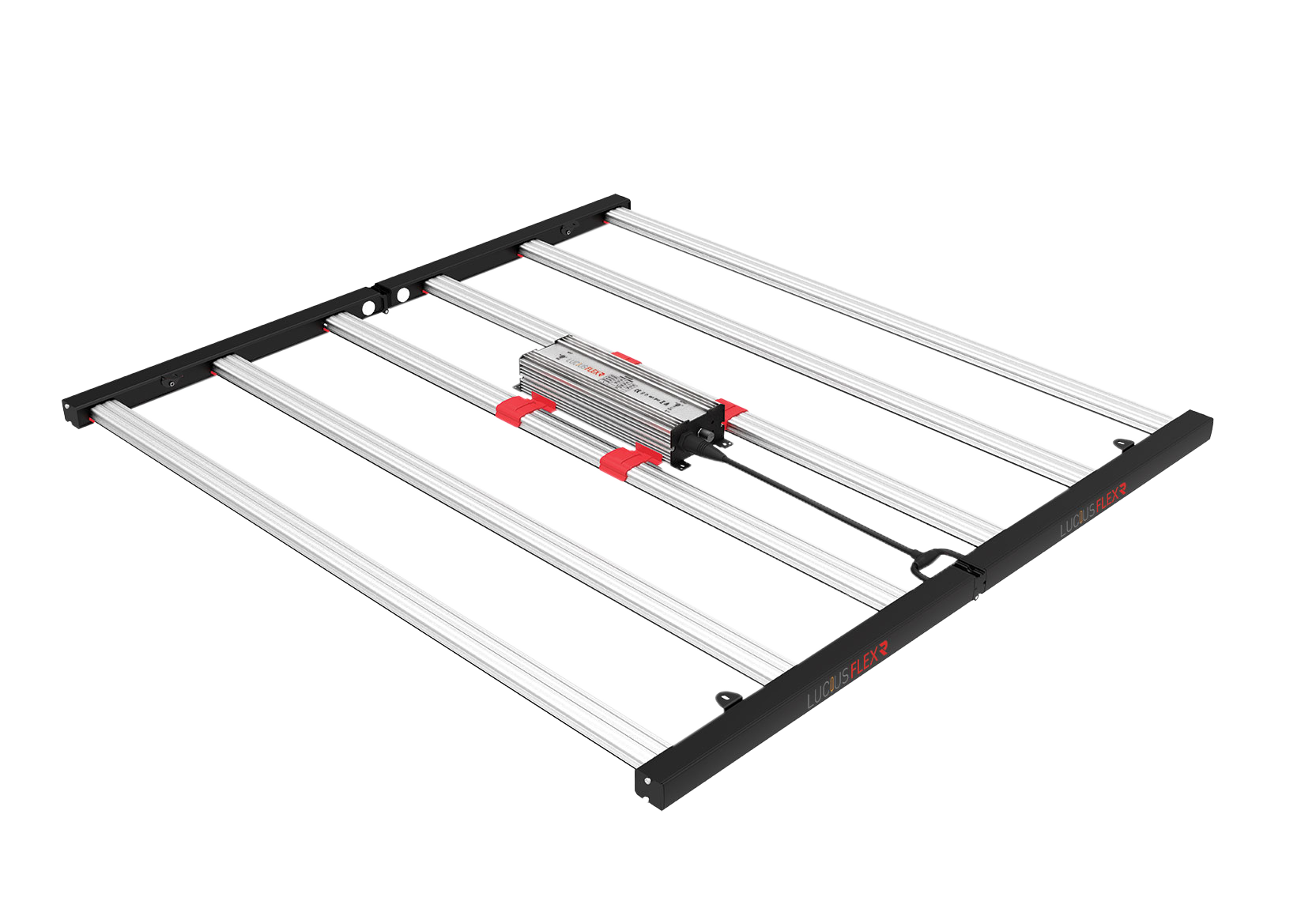 Lucius Flex-R Full Spectrum 680W
Lucius Flex-R Full Spectrum 680W
Lucius Flex-R Full Spectrum 680W
The LUCIUS FLEX R provides growers with the latest OSRAM LED technology in a 6-bar robust design.
Utilising 680W, the R series technology adopts enhanced red diodes to achieve a PPF efficacy of 3.5 mol/J channelling an output of 2,380umol/s.
Each bar is built to last with an innovative IP65 rated silicon that protects the LEDs without compromising light output. Delivering optimal growth, crop after crop.
Features:
High Efficacy 3.5 mol/J
IP65 Rated Foldable Design
Low Ceiling Installation Full Cycle Spectrum Osram Diodes Controller Compatibility
Box Contents:
LED Fixture
Driver Mount (x2) 3.5mm Signal Cable 2m S-Hanger (x2)
LED Driver
Input Power Cable 2m Rope Rachet (x2)
M5 Eyebolt (x2)
Output Cable
Output Extension Cable 2m Lance Hanger (x2)
FLEX R Manual
Specifications
Power 680W
Voltage Range/Frequency 100-277V ~ 50/60Hz
Current 120V 5.84A
Current 208V 3.37A
Current 220V 3.18V
Current 230V 3.05A
Current 240V 2.92A
Current 277V 2.53A
PPF Efficacy 3.5umol/J
Max PPF 2380umol/s
Colour Temp 4000K
CRI 60%
PF >0.95
THD <12%
Beam Angle 120°
Dimming OFF/20/40/60/80/100% & 0-10V Led Control
Thermal Management Passive
BTU/h 2320
Size 1170 x 1115 x 41mm 46.06 x 43.90 x 3.11"
Weight 8.5±0.5kg 18.7±1.1Lbs
Working Temp -30°C to +45°C (-22°F to +113°F) -40°C to +70°C (-40°F to +158°F)
IP Rating IP65
Warranty 4 Years
| | |
| --- | --- |
| Height | 70.000000 |
| Width | 124.000000 |
| Length | 12.000000 |
| Weight | 13.000000 |
This product has no reviews.
---